In a Nutshell
BeNaughty is a great place for fun singles and couples to meet like-minded people who aren't looking for a serious relationship. Everyone on this site has the same goal, to find people with similar interests who are looking for casual and erotic relationships.
pros
Best for hookups and casual relationships
Users are transparent about their goals
Video chat with others
cons
Limited user base
Safety measures could be stronger
BeNaughty Visit Site
Some of the most relevant features offered on the site include the "naughty mode" to allow users to view erotic pictures if they desire, comprehensive basic and advanced search, matchmaking features, chat options, and messaging features. The site draws singles and couples who are interested in sexual encounters and a fun time with little commitment.
BeNaughty Sign Up:
The site offers an easy sign up process which begins by filling out essentials like email, password, gender, and location.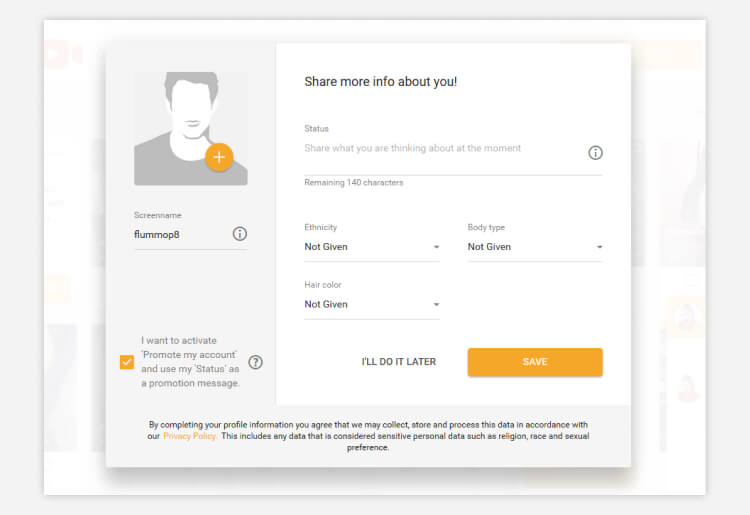 Next, choose a screen name, specify the gender of the match you're looking for, and write a short message to compatible users. Finally, specify notifications you'd like to receive, upload photos, and specify build, marital status, sexual orientation, eye colour, glasses, drinking, smoking, ethnicity, hair colour, height, and weight.
Subscription options include standard and premium memberships. Users who have the standard membership are able to search and browse, use basic and advanced search, view activity pages, upload video, and register a profile. Users who have the platinum membership are able to use full chatting features, use full messaging features, be VIP in search, have a highlighted profile, have mail backgrounds, and premium smileys. To get the most value out of your membership, choose premium for access to chat and messaging.
BeNaughty Ease of Use:
BeNaughty is an easy site to be navigated with clear instructions and a guided sign up process. User settings can be changed by clicking on the user name on the top of the page, and going to "my settings." Comprehensive searching options are available by clicking on the search button in the top menu, and choosing an option. Chat features are available by clicking on the chat button in the top menu and choosing from one of the many chatting options. All features are easy to find and use from the top menu on the top of the page.
BeNaughty Features:
The site offers quite a few handy features for its users to get to know the site. Some of its more unique features include member blogging, use of mobile features, comprehensive search functions, and a point system for users to earn extra features on the site. Some of the other features the site includes are messaging features, chat messenger, text chat, advanced search, basic search, send ice breakers and winks, the ability to talk live, friends list, add video, mobile features, upload photos, join forums, "naughty mode," ability to send gifts, matchmaking, success stories, dating news, and downloads.
The experience of searching for and meeting like-minded singles is made complete with basic and advanced search options. Basic search options will allow the member to search by age, gender, photo or no photo, location, online or offline, and video or no video. Advanced search will allow the user to search by type of photo, lifestyle, smoking or no smoking, drinking or no drinking, sexual orientation, endowment, plays it safe or not, relationship status, what they're looking for, ethnicity, hair colour, eye colour, and build.
Matchmaking suggestions are already generated for the users, based on information taken from common interests found in the profile. To optimize your profile for the best results, be completely honest about what you're looking for in a match, what you're interested in and who you are as a person. Add a photo, possibly more, and completely fill out your profile to guarantee matches.
BeNaughty Prices:
BeNaughty frequently offers a 30% discount on all of its packages, meaning a 3-day trial will cost you just £0.99 per day. If you opt to sign up for a month, you'll pay just £1.07 per day with the discount, which is a fairly average price compared to other dating sites. You can enjoy a further discount on top of the 30% off by opting for a longer plan. The price drops to £0.78 per day for a 3-month plan and just £0.48 per day for a 6-month plan.
All of BeNaughty's plans come with unlimited chats, big photos, extended search, premium support and the ability to share photos and videos in chats.
BeNaughty Visit Site
BeNaughty Safety:
User safety is a priority for BeNaughty, and employs several methods to keep their members safe. The site uses strict procedures to protect the personal information of members, and monitors the site with Scanalytics to protect from spammers. They also include a guide to safe dating to protect their users.
BeNaughty Bottom Line:
BeNaughty is the best at what they do, introduce single people for fun no strings attached casual encounters. Using excellent added functionality such as member blogging, matchmaking and a truly in depth search tool, they are a great choice for helping you find your next night of fun!